HIDROMEK Tractor Manuals PDF
HIdromek-102s-Backhoe-Loader-Parts-Catalog

Hidromek-62-ss-Backhoe-Loader-Parts-Catalog

Hidromek-HMK-62-S-Mini-Skid-Loader-Operator-Manual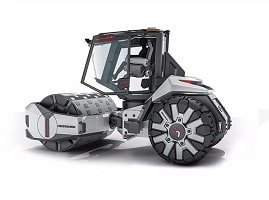 History of Hidromek Tractors
Some HIDROMEK Tractor Service Manuals PDF are above the page.
The first factory Hidromek opened in Ankara in 1986.
And already in 1989, the production of its own excavator-loader NMK-80 started. It was the first Turkish-made excavator.
The company grew at a very fast pace, and in 1996 the company built its own factory, which established the production of massive steel welded parts.
The company's headquarters also moved here.
Naturally, everything built on the outskirts of Ankara.
The growth of the enterprise led to the fact that there was not enough space to collect the equipment, and the company build another plant.
What was successfully done in 2001.
The assembly of excavator loaders moved to the new plant, which was built in the free economic zone of Izmir.
In Ankara in 2006, Hidromek built another plant. Now for the assembly of wheeled and tracked excavators Hidromek.
We draw your attention to how quickly the company was developing! But it engaged in mechanical engineering, and not in gas or oil trade.
The company produces the most complex construction machines of its own design.
If you compare Hidromek with many American and European companies, then it is on the market relatively recently.