KAISER Walking Excavator Manuals PDF
Kaiser-S10-S12-Mobile-Walking-Excavator-Specs-PDF

Kaiser-S22RR-Road-Rail-Excavator-Specs-PDF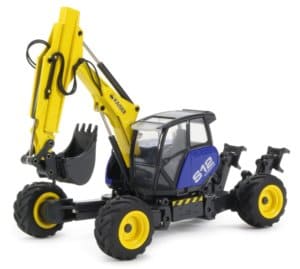 Features of Kaiser S1 & S2 Spider (Walking) Excavators
There're some KAISER Walking Excavator Manuals PDF above the page.
Kaiser has created the S1 and S2 single-bucket excavators with the original walking type undercarriage (spyder excavator).
These machines designed for mechanization of excavation and loading and unloading operations in hard-to-reach places, as well as for logging.
Overcoming various obstacles in hilly terrain, in swamps, in rivers, during logging, these machines perform work on which single-bucket construction excavators of conventional design cannot used.
The Kaiser S1 excavator equipped with a backhoe equipment.
Equipped with an original undercarriage with pneumatic wheels (all driving wheels) and long outriggers, leaning on piles of stones, it successfully loads crushed rocks.
The main parameters of the Kaiser S1 excavator are the maximum digging depth, 4.7 m; maximum digging radius, 6.7 m; maximum digging height, 7.6 m; operating weight, 9 t.
The excavator has a hydraulic drive from a diesel engine – a power plant with a power of 51 kW at a shaft speed of 2200 rpm of three pumps with total power regulation.
The hydraulic cylinders equipped with end shock absorbers.
The travel mechanism riven by hydraulic motors and two-stage planetary gearboxes with a friction brake placed in an oil bath.
The speed of movement of the machine is up to 7 km / h, the speed change is stepless.