MASSEY FERGUSON Tractor Manuals PDF
Massey-Ferguson-135-140-148-152-158-168-188-Service-Manual

Massey-Ferguson-825-Standard-Bulletin-Information

Massey-Ferguson-230_235_240_245_250-Shop-Manual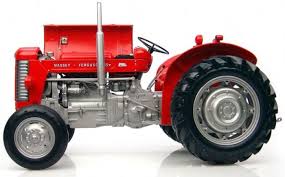 History of Massey Ferguson Tractors
Some MASSEY FERGUSON Tractor Service Manuals PDF are above the page.
In search of new ways to develop and expand business, the company analyzed the external environment.
It attention was attracted by the brand A. Harris, Son & Co. Ltd, and in 1891, enterprises underwent a merger under the general name Massey-Harris Limited.
The new company has become the undisputed leader in the agricultural equipment market of the British Empire.
It began to produce not only reapers and threshing machines, but from 1898 it began to produce bicycles.
The company continued to grow rapidly and in 1910 bought the American Johnston Harvester. Since then, Massey-Harris Limited officially became a multinational company.
Now MF has capacity in four countries. But the country of manufacture Canada is not one of them.
In 1938, Massey-Harris made a big breakthrough. The company's engineers designed the world's first self-propelled combine.
The model was not suitable for mass production, as it was expensive and heavy, but it became the prototype for the subsequent development of the model for market entry.
The management of the company considered all ways to improve and diversify the product line, and Massey worked for some time with the manufacturer of steam engines L.D. in search of alternative options.
A line of steam tractors aunched, which had some success, but with the development of oil internal combustion engines it decided to abandon this direction.
During WWII, Massey-Harris supplied tanks for the US Army, tractors and self-propelled artillery.
By 1958 received a world-renowned name, it merged with Harry Ferguson Limited, and the brand Massey Ferguson eventually emerged.
MF before 1960s
Since 1960, the company opened its first factory in Europe in the city of Beauvais. The tractor factory in which, according to the official website of Massey Ferguson, is today the most modern enterprise in the industry in France.
The 30-hectare plant employs more than 2,300 employees and is responsible for the design development and production of the latest tractor models Massey Ferguson.
Over the past five years, the plant attracted 250 million euros of investment, and since its inception, it produced 915,000 tractors.
The Massey Ferguson 300 serie become a global bestseller due to its high power, wide selection of additional components and mechanisms.
The most successful model in the lineup is the Massey Ferguson 399.
In 1995, AGCO acquired the world's holdings Massey Ferguson, and since that time the brand existed in the form in which it is now known not only to leading agro-industrial holdings.
But also to farmers all over the world. Massey Ferguson products (country of origin does not matter) is a guarantee of quality and reliability.