YARD-MAN Tractor Manuals PDF
Yard-Man-604G-604H-Auto-Drive-Lawn-Tractor-Operators-Manual-PDF

Yard-Man-AutoDrive-Lawn-Tractor-Model-604-Operators-Manual-PDF

Yard-Man-Automatic-Lawn-Tractor-Model-604-605-Operators-Manual-PDF

Yard-Man-Hydrostatic-Lawn-Tractor-Model-X614G-Operators-Manual-PDF

Yard-Man-Automatic-Lawn-Tractor-Model-607-608-609-Operators-Manual-PDF

Yard-Man-Snow-Thrower-31-AH-Series-Operators-Manual-PDF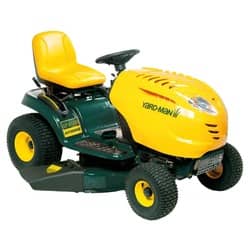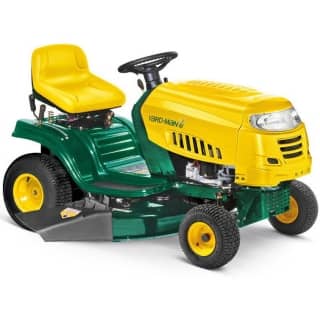 Review of Yard-Man AE 5150 K Lawn Tractor
Some YARD-MAN Lawn Tractor Operator's Manuals PDF above the page.
Yard-Man Tractors is a part of MTD.
The main features of the Yard-Man AE 5150 K garden tractor:
15hp Kawasaki OHV two-cylinder engine with an electric drive of the power take-off shaft allows you to efficiently perform any work;
A comfortable operator's seat with a high backrest and controls placed on the dashboard facilitate tractor control;
Deck engagement by clutch – reduces drive belt wear and maintenance costs;
The deck removed and installed without the use of tools, it is easy to clean and maintain;
Removable grass catcher of the FastAttach system with a volume of 280 l with an audible fill indicator;
The grass catcher removed and installed without the use of tools; it is easy to clean and saves space during storage;
Exclusive FastAttach system allows you to install attachments without the use of tools;
Universal rear hitch allows the use of trailed equipment (trailer, sprayer, etc.);
Deck 92 cm wide with 2 knives with wash connector;
When installing the front attachment (blade-blade, rotary snow blower), the tool is not required;
AutoDrive pedal control – driving a tractor is as easy as driving a car;
Wide tires provide low ground pressure and good flotation;
Small turning radius of 53 cm makes it easy to maneuver, which allows you to mow the lawn near trees and bushes;
Front bumper included;
RevTEK – reversing mowing system.