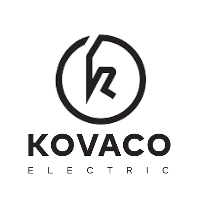 KOVACO Electric Loader Manuals PDF
Kovaco-MiniZ-Electric-Loader-Operation-Manual-PDF

Kovaco-Elise-900-Skid-Steer-Loader-Operation-Manual-PDF

Kovaco-Electric-Loader-Handling-and-Maintenance-Instructions-PDF

Features of Kovaco Elise 900 Loaders
There are some KOVACO Electric Loader Manuals PDF above the page.
Kovaco (Slovakia) began developing its version of the Elise 900 electric skid steer loader back in 2014.
And then the company turned its ideas into reality by presenting a serial sample of a mini-loader with an operating weight of 3300 kg (transport weight – 3250 kg).
With the ability to remote control based on Android OS.
The compact representative of the galaxy of mini-loaders received three electric motors.
Two power units are responsible for the movement of the machine, and the third – for the performance of the hydraulic system.
And the hydraulic system pumps the working fluid at a rate of 65 l / min at a pressure of 180 bar.
In addition, the electric skid steer loader was equipped with lead-acid batteries with a power consumption of 25 kW.
It takes 5 hours to fully charge the batteries, and the duration of operation of the equipment, depending on the load, varies from 4 to 8 hours.
However, Kovaco also offers a version of the machine with a more powerful battery of 96 V / 400 Ah.
The Kovaco Elise 900 has a payload capacity of 900 kg and a tipping load of 1800 kg.
It is capable of speeds from 0.15 to 13 km/h.
Along with this, each wheel of the loader is connected to a planetary gearbox.
Kovaco Eise 900 Loader Opportunities and Scope
The manufacturing company suggests using the Kovaco Elise 900 compact loader.
By the way, the height of the boom reach of the loader is 3.4 m, which is quite enough to reach the dump truck.
And the electric skid steer loader stands out among steel colleagues with a chassis height that exceeds the standard parameter of traditional analogues by 6 cm, and towing eyes, which allows it used as a towing unit.
The developers assure that this model of mini special equipment will be a good help in loading and unloading operation.
And the mount will withstand loads even when using basic attachments.